FTA is the partner for unique production design solutions in film, television, and theater
FTA Film and Theater Equipment is home to an extraordinary collection of furniture, lighting, fabrics, carpets, props, and costumes. From past eras to futuristic interiors, FTA offers the perfect set dressing for every era.
As a reliable partner, FTA Film and Theater Equipment provides comprehensive services for costume rental and sales, as well as the rental and sale of furnishings and set dressing. Whether for film, television productions, advertising, or events, FTA always has the right product in stock.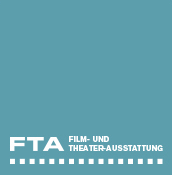 Part of the Greenwood Group